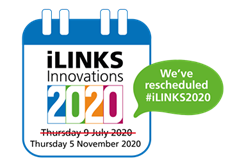 Come and join us at the iLINKS Innovations 2020 event at Aintree Racecourse on Thursday 5 November 2020 from 8.30am – 4.30pm at stand no. 23.
The iLINKS Innovations is an annual conference and exhibition dedicated to showcasing innovation and technology and exploring the benefits that this can deliver across health and social care.
At this exhibition we will be looking to demonstrate our latest and greatest in speech recognition and workflow management solutions.
These include:
SpeechReport – Our enterprise speech technology software
SpeechReport Cursor – Speech recognition for any text field including Microsoft Word and Outlook
G2 Analytics – Keep track of KPIs with our reporting tool
G2 Mobile – Providing information access whilst on the go.
There will also be opportunities to speak to the team about Structured Reporting and Clinical Coding. This innovative way of reporting allows clinicians to simply and quickly create reports, within templates, using speech recognition. Structured Reporting enables clinicians to extract data from patient letters and documents during their day to day reporting.
Healthcare organisations are more frequently looking at cloud computing in an effort to increase efficiencies, improve cash flow, security, and more. Speak to the team about on-premise and cloud solutions available.
For more information on iLINKS.