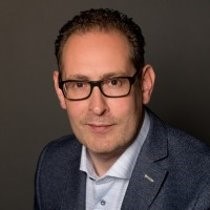 We are happy to present Jeroen van der Put, our Manager Product Management in this very first edition of our website column 'We are G2'.
Hi Jeroen, Can you please tell us a bit more about yourself? And your professional interests?
I am a versatile, positive-minded individual. Professionally, I am interested in motivating people, product management and marketing. In my spare time you can find me on the golf course, at the barbecue or with friends in the cinema.
You have been employed since the end of 2020. Why did you choose G2 Speech?
G2 Speech initially appealed to me because the solutions clearly add value for our customers. In my first conversations I immediately had a good connection with the people I spoke with. The open atmosphere within G2 was the decisive factor. After all, people work for people.
What do you like most in the position of Manager Product Management?
All my experience comes in handy in this job. The management profession is just as varied as my career. I get my energy and enthusiasm from inspiring, guiding and coaching people and making plans to make G2 and my team as successful as possible.
What's the role of our customers in the development process?
Our customers play an important role in the development process. After all, we design solutions for our customers to support them in their reporting process. That's why we regularly have discussions with our customers and use their feedback, ideas and wishes to develop our software. We then develop solutions that are as close as possible to the wishes of our customers.
Can you outline the development process from idea to working functionality?
The development process is mainly inspired by the workflow and wishes of our customers or changing trends within the healthcare sector. The Product Management team discusses the benefits of certain new developments for our customers. A solid business case is drawn up for major developments. By collecting information we estimate whether new developments fit our vision of the future.
We then plan developments on our roadmap and the Product Team draws up the requirements in consultation with the Development Team. This clearly delineates what falls within the scope of the development. After that, the Development Team gets to work on the development. Sprints of two weeks are followed according to the SCRUM method.
Working this way we realise smart, innovative functionalities with which we support healthcare customers in the field of document creation and workflow management.
Can you tell us a bit more about the upcoming developments in 2021?
In line with the ever growing use of virtual environments, we will be enhancing how our SpeechReport platform works with the latest versions of Windows Terminal Server, Citrix, XenApp, XenDesktop and VMware Horizon.
We are also expanding our software's integration capabilities with new and existing technology partners.