The Western Health and Social Care Trust (Western Trust) provides health and social care services across the super council areas of Strabane and Derry City, Fermanagh and Omagh District and a portion of the Causeway Coast and Glens Borough Council area.
The Western Trust employs approximately 12,500 staff and spends £588 million annually in the delivery of health and social care services.
The Trust has worked with G2 Speech as their digital dictation, speech recognition and workflow management provider for over seven years. The Trust started the partnership working with G2 Speech in June 2011 with some clear objectives in mind:
To support the development and implementation of efficient work flow initiatives within the Trust
To provide a more flexible method of dictation e.g. inserting, deleting, remote working, etc.
To improve efficient and effective use of secretarial typing capacity
For the system to be easy to use and user friendly.
There are currently over 1,500 users within the Trust accessing the speech technology system every day. The users are accessing a mix of digital dictation and front and back-end speech recognition. Prior to using the G2 Speech solution, the Trust using analogue tapes and were having to transport tapes from outlying sites to Altnagelvin Hospital to be typed. This was an extremely lengthy and resource heavy process. Things have improved significantly since the implementation. Ensuring that the processes are made much simpler, improving turnaround times and increasing security of documentation.
The Western Trust has reached one million documents using digital dictation and speech recognition, G2 Speech celebrates with a cake to mark this occasion.
James O'Sullivan, Area Manager G2 Speech said: "It's fantastic to have reached such a significant number of documents here at Western Health and Social Care Trust. The changes noted since the analogue days have been huge and I'm so pleased with how things have progressed. I look forward to seeing the future progression with the introduction of our latest solution, SpeechReport." 
Fergal Durey, Head of ICT for the Western Trust said: "This a highly significant milestone for the Western Trust in achieving over 1 million documents created using the digital systems.  We look forward to continuing to work with G2 Speech on the next step in the migration to G2 Speech's latest platform, SpeechReport which offers a host of new functionalities including cloud computing, clinical coding, structured reporting and mobile working."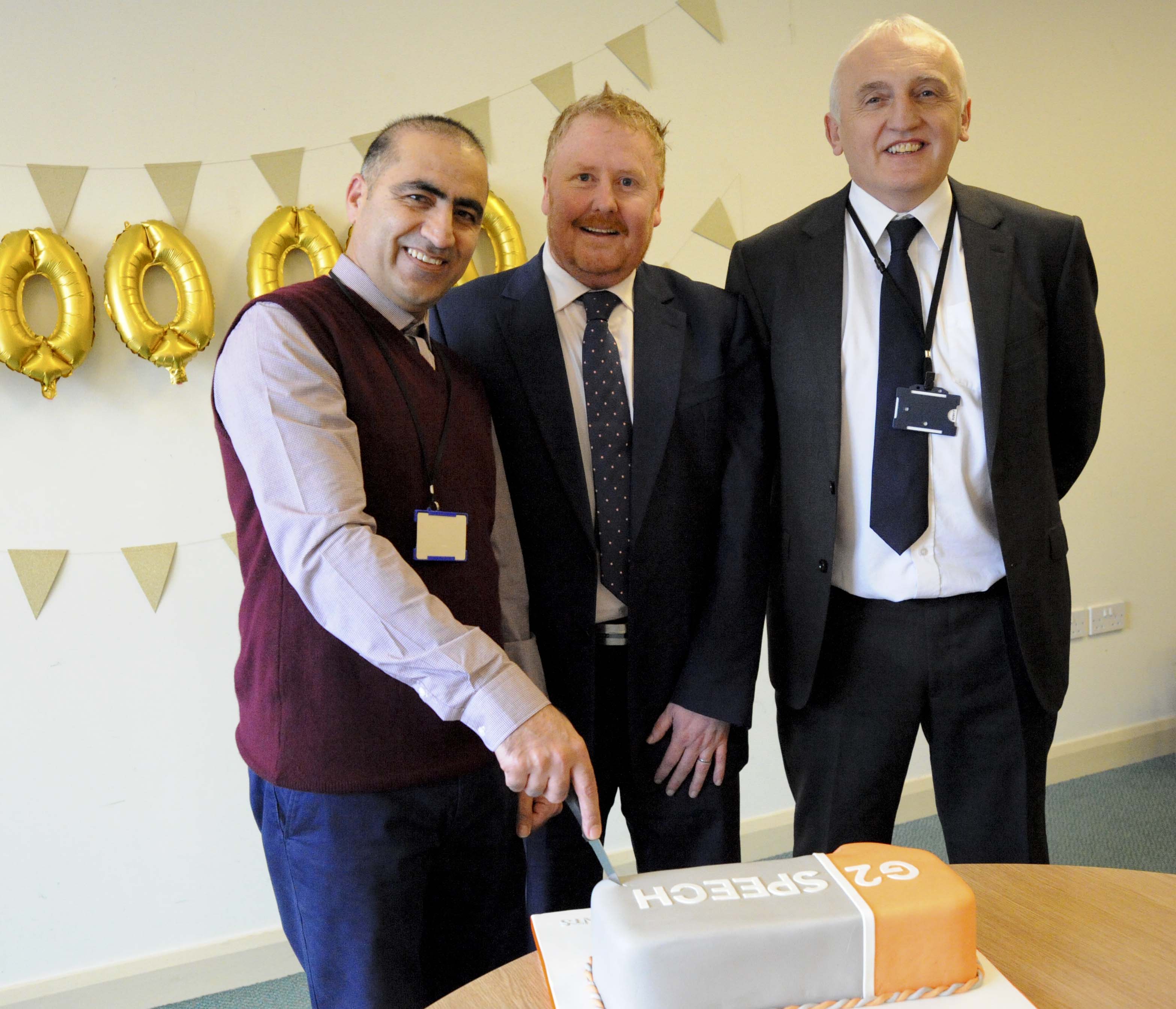 Mr Z Bahli (left), created the 1,000,000th document.
There are five main hospital sites within the Western Trust area:

Altnagelvin Area Hospital, Londonderry
Gransha Hospital, Londonderry
Omagh Hospital and Primary Care Complex
South West Acute Hospital, Enniskillen
Tyrone and Fermanagh Hospital, Omagh.
Within each of the sites are over 100 different medical groups of specialisation including: A & E, Bowel Cancer Screening, Breast Cancer Screening, Cardiology and Clinical Psychology, to name just a few! The G2 Speech platform provides medical dictionaries for each of these specialities – this ensures recognition and textual interpretation is highly accurate.