Thank you for everyone that took the time to enter our 20th birthday competition. All of our competition winners have now been contacted and prizes have been distributed. Below are a few photographs of our top prize winners!

Jenny Barker, Project Manager at Hull and East Yorkshire Hospitals NHS Trust pictured here with Brody Gallagher, Key Account Manager. Speaking of our solution Jenny said: "SpeechReport is a fast electronic speech recognition system that improves the quality of patient care and experience, by the production of documents following patient episodes. It relieves the necessity for clinicians to spend hours on admin and frees up time for delivery of care to patients."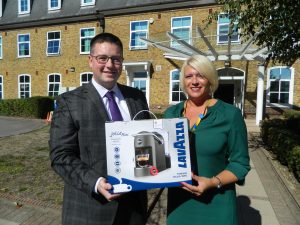 Melony James, Project Manager at Oxleas NHS Foundation Trust is another one of our lucky prize winners. Here she is pictured with Brody Gallagher. Speaking of her experience using our solutions, Mel said: "I have always found G2 Speech easy to use and the speech recognition element from my point of view is very time saving. Cursor enables us to dictate directly into clinical records saving on admin time."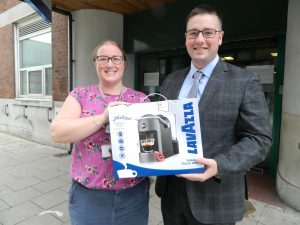 "SpeechReport is an excellent system and great to use. Once fully rolled out in dental, we're hoping to use structured reporting to create aligned clinical pathways across dental services." – Sarah Hardman, Assistant Directorate Manager at Manchester University NHS Foundation Trust speaking about her experience of our solutions.