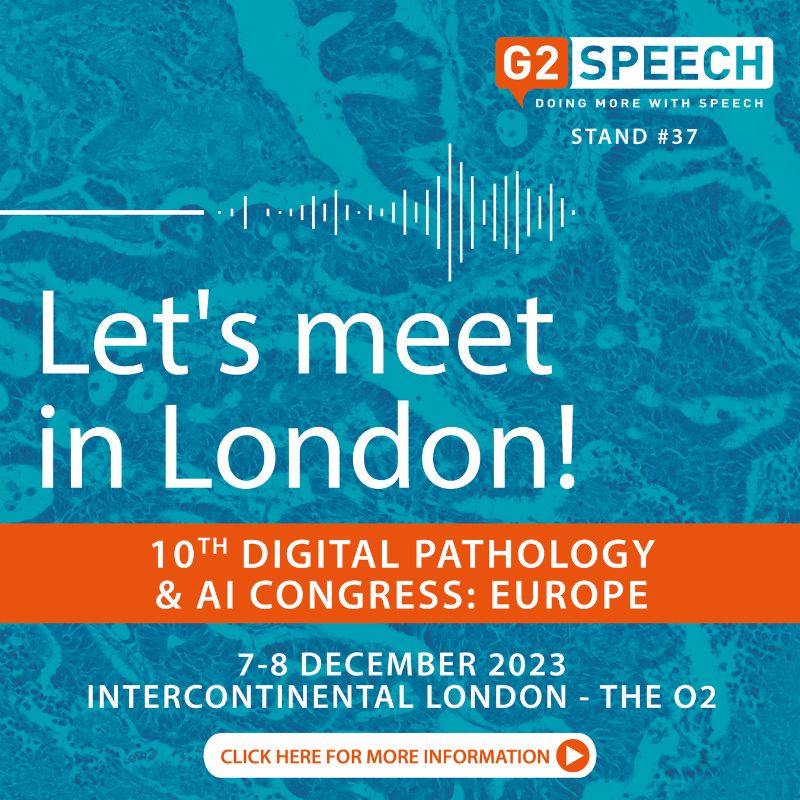 We're going to 10th Digital
Pathology & AI Congress: Europe!
On Thursday 7th and Friday 8th December, we will be attending the 10th Digital Pathology & AI Congress. 
With industry experts sharing valuable insights around fascinating industry-related topics, it's guaranteed to be an incredibly interesting two-day event. Some of the tools that will be discussed are:
Digital imaging

Advanced artificial intelligence algorithms

Computer-aided diagnostic techniques

Augmenting and empowering diagnostic pathology

And much more!
Please visit the Digital Pathology website for more details.
In proud partnership with...


Whilst at the 10th Digital Pathology & AI Congress we will be demonstrating the use of our expert solutions: SpeechReport and SpeechCursor.
With SpeechReport, your clinicians have all they need to create accurate patient records at their convenience, enhancing the quality of your organization's records as well as the overall patient experience. SpeechReport Cursor is designed to simplify your workflow right from the start. Just position your cursor, talk, and see your words come to life. Correct and navigate through your content using intuitive voice commands, directly within medical, non-medical, or Windows-based applications.
Our workflow management solutions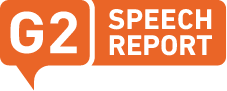 Streamline your workflow from dictation to signature and distribution to final document archiving.
Find out more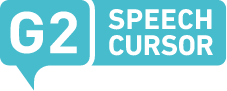 Dictate directly into text areas in any medical, non-medical or Windows-based application.
Find out more
SpeechReport key features
 Time savings of at least 20% compared to typing
 More than 98% speech recognition accuracy
 Fully automated document handling
 Suitable for any medical specialty
 Document templates and worklists
 Auto-text to add frequently used texts with a single voice command
 Insight into previously made dictations per patient
 Flexibility to work on the move, with our mobile apps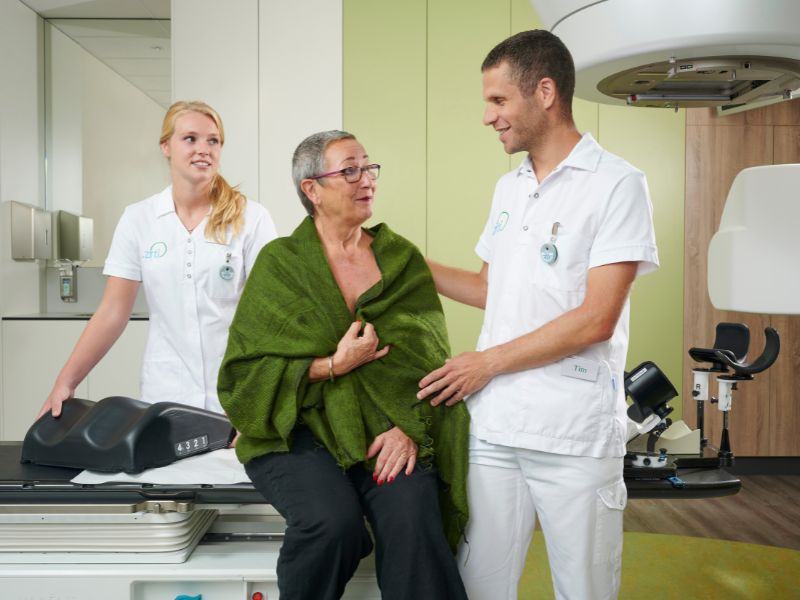 Latest Case Study
The Zuidwest Radiotherapeutisch Instituut (ZRTI) treats more than 2,200 cancer patients annually by means of radiotherapy. Roughly 100 employees work at the Roosendaal and Vlissingen locations. The ZRTI works together with specialists from general and academic hospitals. They mainly focus on patients from Zeeland, West Brabant and parts of South Holland.
We recently spoke with Anne Alblas, Medical Imaging and Radiation Expert | Application Manager at the ZRTI. Together with colleague Arjen Tange, information coordinator, she is also responsible for the application management of SpeechReport. In this case study, she shares her experience with us.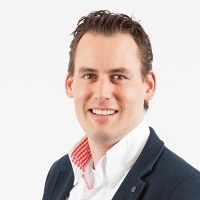 "Creating accurate and timely reports is a crucial factor in healthcare nowadays. Especially in the field of diagnostics where complexity is growing and pressure for efficiency is huge.
In our collaboration we have flexibility and customer obsession as core values; Together with G2 Speech we make sure the diagnostic specialists are always enabled with the best tools and service to be more effective for the ones it is all about: the patients."
Bart Thielen
Sectra