Save the Children Christmas Jumper Day
Thank you to everyone who took part in 'Christmas Jumper Day' on Friday 13 December in our London, Leeds, Cork and Derry offices. All G2 staff wore their snazziest Christmas jumpers on that day which helped raise money for Save the Children. This charity helps support children to learn, grow and become who they want to be around the world.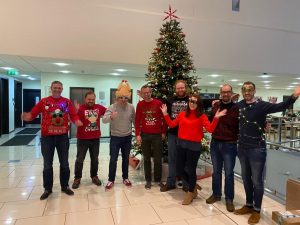 Pictured: Our Cork office feeling festive!
Find out more about Save the Children
Warm Winter Clothes Collection
We have also been collecting warm winter clothes to donate to homeless people and those who have fallen on hard times near our offices. Thank you to all who donated coats, hats, scarves, gloves, hoodies and thermals that have been very well received by the following local charities:
Cork:
St Vincents Hostel: (Male only) Anglesea Terrace, Anglesea Street, Cork
Edel House Emergency Accommodation: (Female and Children), Grattan Street, Cork
Derry:
The Salvation Army, 33 John St, Londonderry BT48 6JY
Leeds:
St Georges Crypt, Great George Street, Leeds, LS1 3BR
London:
Caritas Anchor House, 81 Barking Road, Canning Town London E16 4HB